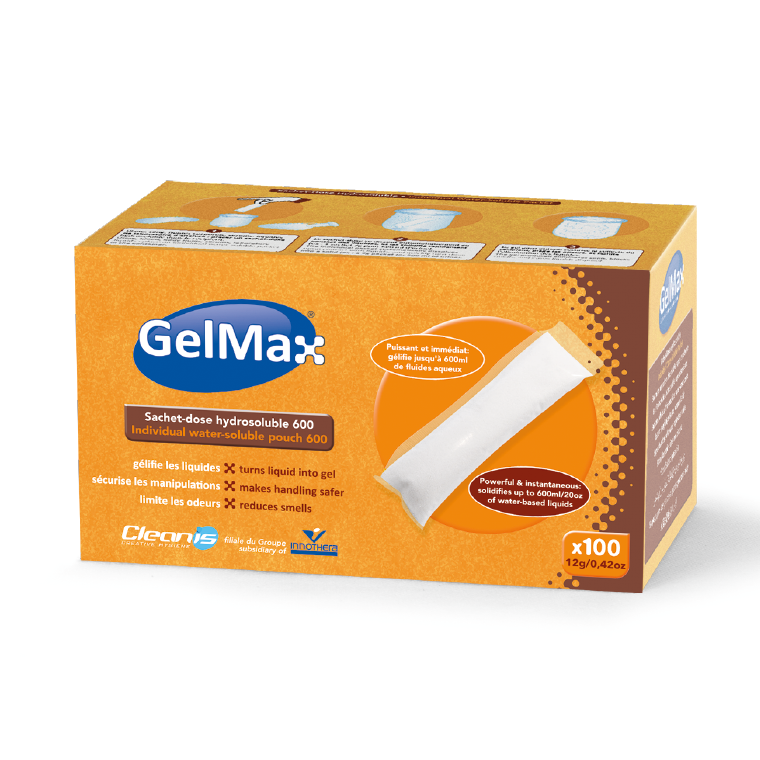 Super Absorbent Water Soluble Pouch
Secure gelling of liquids in small containers
Medical device
Ref: 957 84 20, Box of 100 pouches
Absorbs and gels biological fluids even in small containers
Secures the collection, transport and disposal of biological fluids
Contributes to the fight against nosocomial infections
---
Contact Us
Product Features
Instructions
Ordering information
FAQS
The single-use GelMax® water-soluble sachet absorbs and gels biological fluids and a wide variety of chemical products routinely used in the laboratory. The GelMax water-soluble sachet is very useful in reducing the disposal costs of liquid infectious biomedical waste.Upon contact with liquids, its water-soluble film dissolves and the super-absorbent powder disperses to gel them, thus limiting the risk of spilling and splashing.
The small size of the pouch allows it to be used in small containers - ostomy pouches removed from the patient, suction jars. Its use is recommended in departments such as : 
Intensive Care Unit
Intensive Care
Digestive Surgery
Emergency
Maternity
Rehabilitation
EHPAD
Geriatric units 
Hospitalization at home
Care at home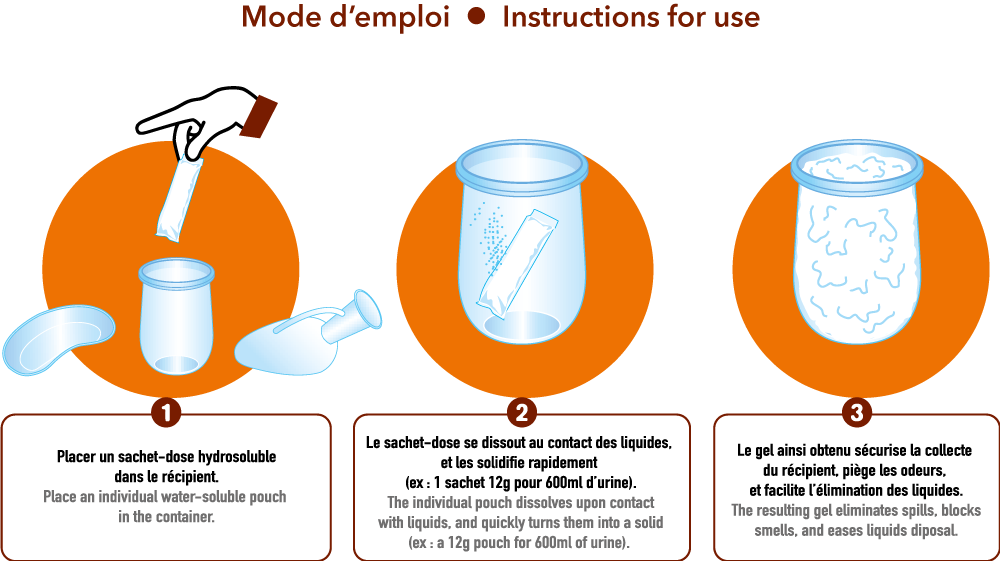 Precautions for use
For single use, reuse may result in insufficient or no absorption, leading to potential contamination and discomfort for the patient. Keep away from sunlight. Keep dry. Store between 0° and 30°. Do not open the pouch before use. Do not use with wet hands. Flush eyes or sensitive areas with water if they come in contact with enclosed powder. In case of ingestion, consult a doctor immediately and show him the packaging. Keep away from children. Do not use on damaged skin. Dispose of in household waste or in accordance with institutional excreta management protocol. Do not use this product to gelify the following chemical products : strong acids (concentration > 3%), strong bases (concentration > 10%) and strong oxidizing agents.
Any serious incident involving the medical device must be reported to Cleanis and to the competent authority in the country concerned.
Product reference : 957 84 20
Packaging : Box of 100 pouches
Secondary packaging : Box of 12 packs of 100 pouches (1200 pouches)
Is the GelMax packet compatible with bleach?
Yes. The GelMax water-soluble pouch showed its effectiveness when tested on the absorption of 2% bleach water.
What is the disposal system for the gel formed by the pouch and liquid?
The combination disposal system depends on the gel liquid and contamination present in it. Follow the protocol of your institution.