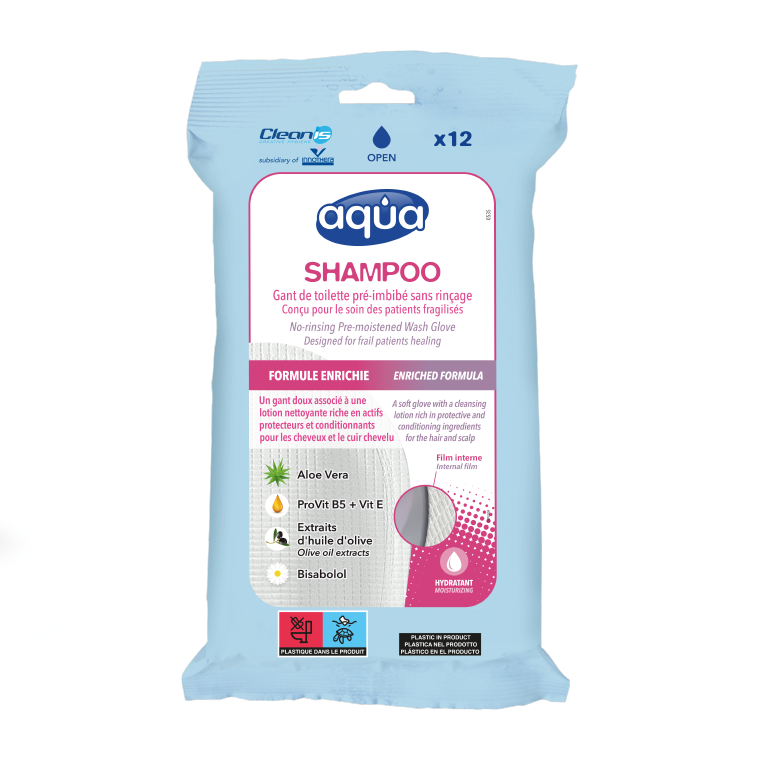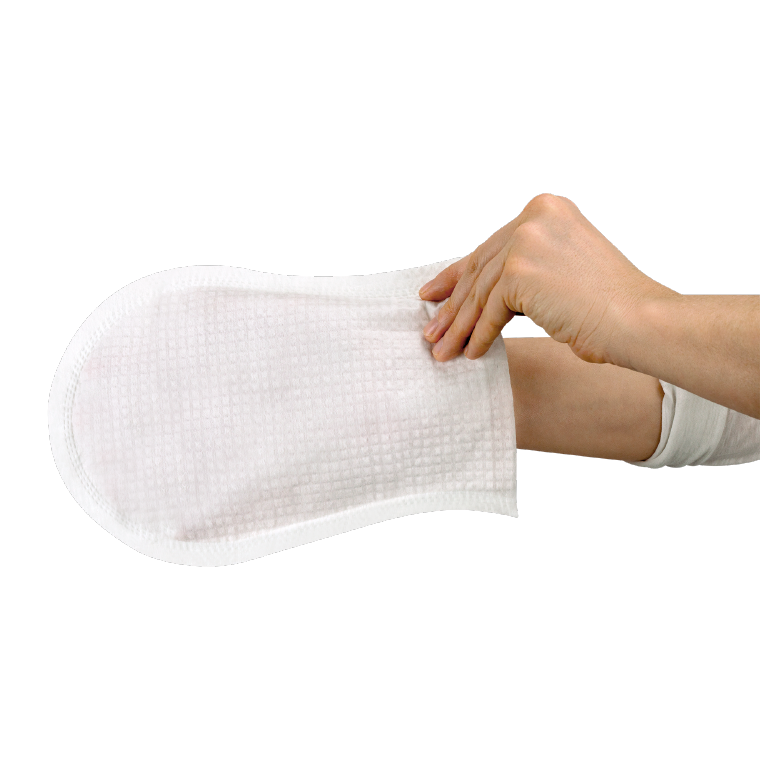 SHAMPOO Glove
Ready-to-use, waterless, fast and pleasant pre-moistened shampoo glove
Ref: 992 92 00, pack of 12 gloves
Dermatologically tested, shampoo designed for fragile individuals
Faster than traditional bathing
Rated 93/100 by Yuka application
---
Contact Us
Product Features
Instructions
Ordering information
FAQS
The AQUA Shampoo Glove is intended for waterless washing of the hair and scalp of frail and/or bedridden individuals. 
Pleasant to the touch, scented, thick texture and saturated, it is suitable for cleansing all hair/scalp types.

The AQUA range products consist of a disposable glove soaked in lotion containing cleansing and protective active ingredients (Aloe Vera, olive oil extracts, bisabolol, Vitamin E, Provitamin B5) and lined with plastic film for waterless bathing.

The AQUA gloves allow for faster and more efficient bathing in order to dedicate more time to patient care. 
Lined with a waterproof inner lining to protect the caregiver from soiling, it can be reheated in the microwave for greater tolerance and comfort, and does not require rinsing. It is frequently used in :
Geriatrics
Gerontology
Rehabilitation
Home care
A real time-saver for caregivers, it brings hygiene and comfort to the patient.
Instructions for use
Open the pack. 
Heat the pack in the microwave (700W), if necessary, for greater comfort, as indicated:

Take a shampoo glove (or two for long hair) and insert your hand, closing the pack. 
Wash hair directly, scalp can be massaged; product does not need to be rinsed out. Use one glove for hair up to the nape of the neck. For longer hair, use two gloves.
Gently pat dry, comb or brush as usual.
Precautions for use
Single-use product. Do not reuse after use. Do not use on damaged skin. In case of infectious risk, reserve each pack of gloves for a single patient. Rinse thoroughly the eyes in case of contact or mouth in case of ingestion; call a doctor if necessary. Store in a dry place, away from light and heat.
Product reference : 992 92 00
Packaging : Pack of 12 gloves
Secondary packaging : Box of 12 packs (144 gloves)
Are there parabens in lotion-saturated AQUA gloves?
No. All Aqua gloves are soaked in a dermatologically-tested lotion without parabens or alcohol.
Can the Aqua glove be heated in the microwave?
Yes. The instructions to properly warm up the gloves are located on the rear side of the Aqua pack.