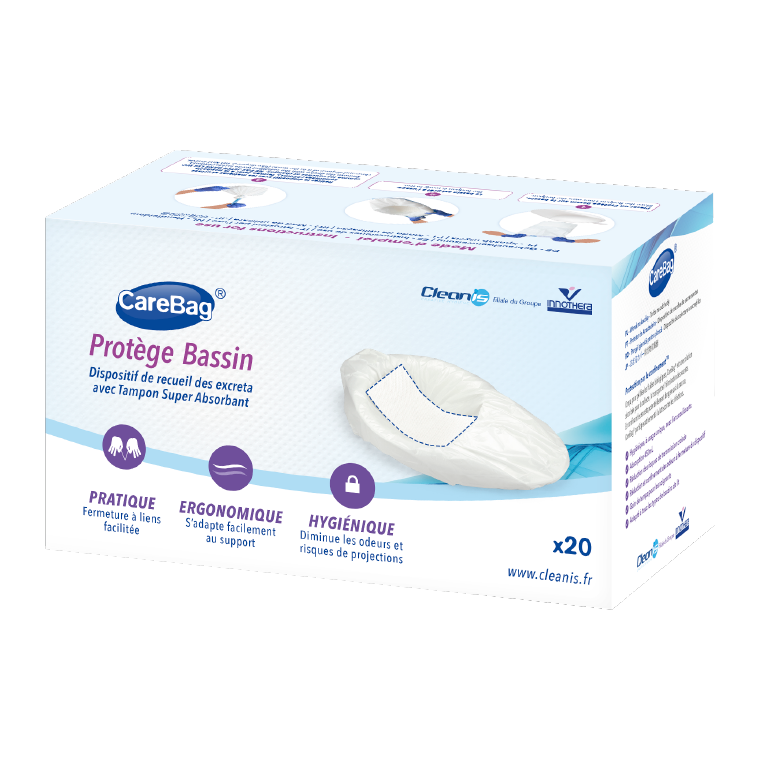 Bedpan Liner with Super Absorbent Pad
Single-use medical devices, bedpan hygiene and helps prevent hospital-acquired infections
Ref : 771 11 41, box of 20 pre-cut devices packaged as a roll
For the safe collection and elimination of excreta through source containment 
Absorbs and gels 450 ml of body fluids thanks to its super-absorbent pad
Reduces odours and reduces the risk of splashing and splattering
---
Contact Us
Product Features
Instructions
Ordering information
FAQS
The CareBag Bedpan Liner was the first product in the range. Composed of a bag and a super-absorbent pad, it was designed to fit all types of bedpans.
In contact with fluids and materials, the pad acts from the first contact with fluids to gel it, and thus limit the risk of splashes and spills once it is sealed while trapping odours. It also protects the bedpan, thus preventing its soiling and contamination due to its handling.
The CareBag Bedpan liner is used in many departments where patients are bedridden and frail: :
Intensive care unit
Intensive care
Digestive surgery
Emergency
Maternity
Rehabilitation
EHPAD
Geriatric units 
Care at home  
It is also used for hospitalisation at home.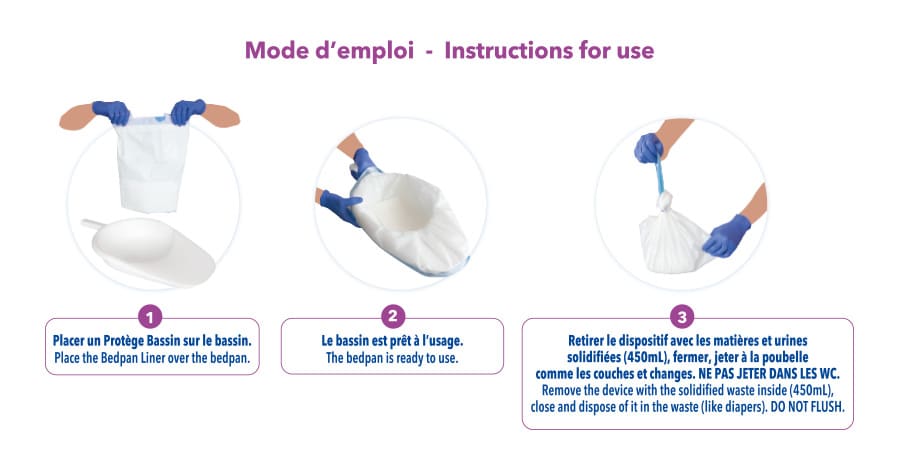 Precautions for use
For single use, reuse may result in insufficient or no absorption, leading to potential contamination and discomfort for the patient. Keep away from sunlight. Keep dry. In case the pad comes in contact with the eye(s) or mucous membranes, rinse with plenty of water. In case of persistent discomfort, contact your doctor. In case of ingestion, consult a doctor immediately and show him the packaging. Keep away from children. Do not use on damaged skin. Dispose of in household waste or in accordance with institutional excreta management protocol.
Any serious incident involving the medical device must be reported to Cleanis and to the competent authority in the country concerned.
Référence produit : 771 11 41
Conditionnement : Boite contenant un rouleau de 20 dispositifs pré-découpés
Conditionnement secondaire : Carton de 18 boîtes de 20 sacs (soit 360 sacs)
Are there instructions on how to install the Bedpan Liner ?
Yes, Cleanis offers video instructions and a training service. In the latter case, please contact us.

Is the Bedpan Liner suitable for all types of bedpans ?
Yes, the CareBag Bedpan Liner can be adapted to any standard bedpan.